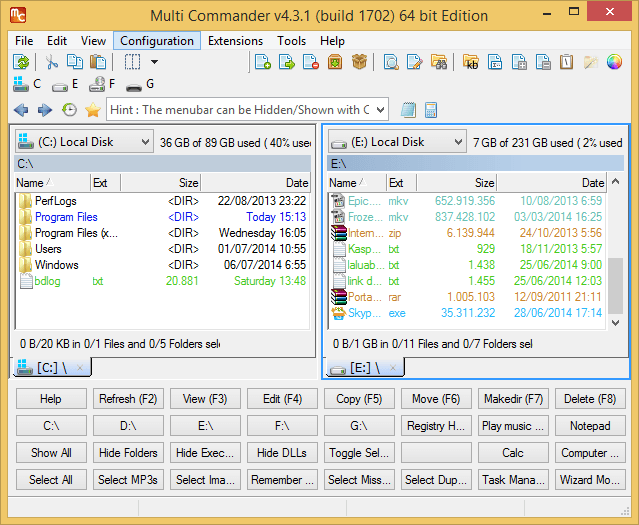 Sangat sedikit kemampuan Windows Explorer mengelola file/folder jika dibandingkan dengan Multi Commander. Aplikasi ini relatif mudah digunakan, dengan tampilan dual-panel kita dengan mudah melihat dalam sekali pandang kumpulan folder yang sama/berbeda dalam dua jendela yang berbeda dan berdampingan. Jika anda berurusan dengan banyak file setiap waktu maka anda patut mencoba aplikasi ini untuk memudahkan pekerjaan anda. Misalnya membandingkan apakah dua file berbeda atau sama keduanya. Fitur lainnya adalah Picture tools-nya yang membantu kita memutar gambar, melihat/menghapus EXIF tags-nya. Tidak hanya itu, masih banyak beberapa fitur lainnya.
Fitur-fitur Multi Commander
Ada begitu banyak fitur dan tweak pada Multi Commander. Beberapa diantaranya sebagai berikut.
Layout (Tampilan)
Dual Panel, jadi Anda tidak perlu lagi membuka dua jendela Windows Explorer
Tabs
Commander styled keyboard/mouse setup
Windows Explorer styled keyboard/mouse setup
Customizable colors, setiap jenis file/folder berwarna berbeda. Warna bisa diatur sesuai dengan keinginan Anda. Misalnya file mp3 berwarna merah, file doc berwarna biru, dst.
Customizable keyboard
Customizable mouse
Clickable crumbbar
Commandline field for quick commands
Quick launch bar
Alias
Button panel
Log window
File System Browser
Fast Selection/Deselection of multiple files using filters
Set view filter to minimize files that should be shown.
Go to next/previous sibling folder with ctrl+pgup/pgdn
Load/Save current selection to memory or file
Restore previous copy/move selection with num+/
Compare panel and select Duplicates, Missing, Newest
Hotpath to fast go to user defined paths
Back/Forward to go to location in previously visited
History button to show the latest location you been at for fast access
Command line command to fast go to path
Edit path field to change path
Disconnect usb/remote device from inside Multi Commander
Quick search window to do inplace search for file/folders
Show files and folder in detailed or list or thumbnail list mode, memperlihatkan file/folder dalam mode detil atau daftar atau thumbnail
File System
Browse local harddrives, menelusuri hard drive lokal seperti darive C:, D:, dst.
Browse network servers/shares
Plug-ins expands the filesystem.
FTP (with SSL/TLS Support)
Browse the Registry as a filesystem, menelusuri Registry tanpa membuka Registry Editor
Browse archives (Zip, 7-Zip, Rar, Tar, gz, bz2 )
Show file properties as columns
File Operations
All file operations are run in background. Do not hang/block the main window.
Delete files and folder, menghapus file/folder
Delete to recycle bin
Delete files inside archives (eg Zip), menghapus file dalam arsip tanpa diekstrak terlebih dahulu.
Copy
Move
Rename
Multi-Rename
File Security
Take ownership of files/folders
Remove all permissions for a file/folder
Add permissions to a file/folder
dan masih sangat banyak lagi, lengkapnya silahkan kunjungi http://multicommander.com/features
Simpulan: aplikasi yang sangat bagus dan lengkap sebagai alternatif Windows Explorer bawaan Windows, namun perlu waktu untuk terbiasa dengannya karena banyak sekali fitur yang dimiliki. Tetapi jangan khawatir, fitur "Tip of the day" yang muncul saat aplikasi dimulai memberikan petunjuk-petunjuk praktis bagaimana menggunakan aplikasi ini.