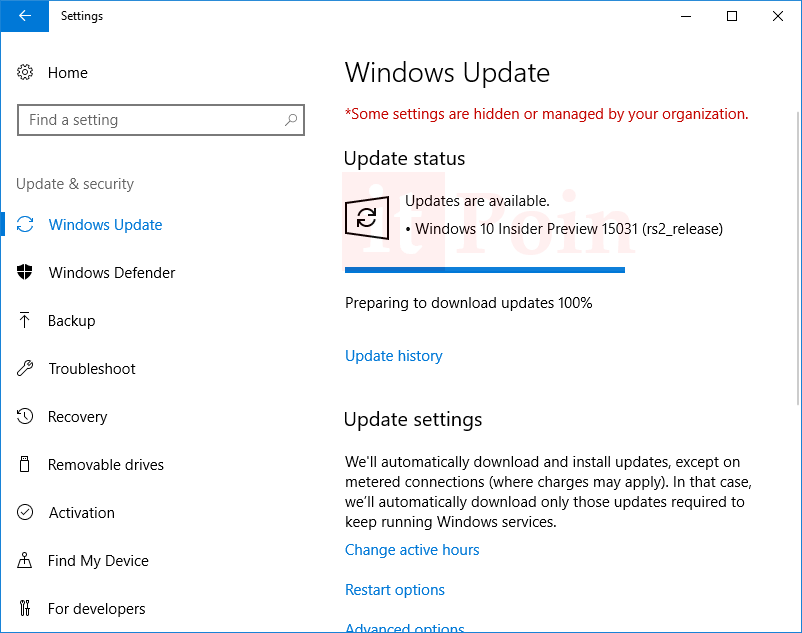 Microsoft telah merilis lagi Windows 10 versi terbaru Insider Preview untuk Fast Ring Insiders. Windows 10 build 15031, yang merepresentasikan Windows 10 Creators Update mendatang. Mari kita lihat apa yang baru (apa yang telah berubah).
Windows 10 Build 15031 Sudah Rilis untuk Fast Ring Insiders
Berikut ini apa yang baru pada Windows 10 Build 15031:
Lakukan lebih banyak sekaligus dengan jendela Compact Overlay baru
Pernah ingin melanjutkan menonton film saat beralih aplikasi untuk memeriksa email Anda? Atau mengawasi video chat Anda bahkan saat Anda sedang browsing web? Kita lakukan semua sekaligus! Beberapa pekerjaan tidak memerlukan perhatian penuh pengguna. Tetapi sempurna untuk meninggalkan di sudut layar. Oleh karena itu Microsoft memperkenalkan mode Compact Overlay baru untuk pengembang aplikasi UWA. Ketika jendela aplikasi memasuki mode Compact Overlay itu akan ditampilkan di atas jendela lain sehingga tidak akan diblokir. Bagian yang terbaik adalah bahwa Compact Overlay bekerja seperti jendela normal. Dengan demikian para pengembang aplikasi dapat menyesuaikan pengalaman dengan apa yang telah mereka ketahui. Update aplikasi Film & TV dan Skype Preview dalam waktu dekat!
Memperkenalkan Dynamic Lock
Dynamic Lock otomatis mengunci Windows 10 PC ketika Anda tidak berada di sekitar berdasarkan kedekatan telepon Bluetooth-paired. Jika ponsel Anda yang tersambung Bluetooth dengan PC tidak ditemukan di dekat PC Anda, Windows mematikan layar dan mengunci PC setelah 30 detik. Untuk mengaktifkan Anda, pastikan ponsel Anda tersambung ke PC melalui Bluetooth dan masuk ke Settings> Account> Sign-in dan beralih Dynamic Lock "on".
Share icon Baru
Microsoft memperkenalkan ikon berbagi baru. Aplikasi yang menggunakan "share" Font glyph aset Segoe MDL2 mendapatkan perubahan secara otomatis.
Jendela Game Bar mendukung layar penuh
Pada build ini, telah ditambahkan dukungan untuk 52 game dalam modus layar penuh. Seperti biasa, tekan saja WIN + G untuk memanggil Game Bar untuk menangkap rekaman atau screenshot.
Game yang didukung sebagai berikut.
Aion
Borderlands 2
Call of Duty Black Ops III
Call of Duty: Infinite Warfare
Civilization VI
Company of Heroes 2
Crusader Kings 2
Deus Ex: Mankind Divided
Dishonored 2
Elite: Dangerous
Euro Trucks 2 Simulator
Europa Universalis IV
Eve Online
F1 2016
Fallout New Vegas
Far Cry 4
Football Manager 2016
Football Manager 2017
Garry's Mod
Grand Theft Auto IV: Complete Edition
Grand Theft Auto V
Grand Theft Auto: San Andreas
Hearts of Iron IV
Hitman – Full Experience
Killing Floor 2
Lineage 2 – The Chaotic Throne
Mafia III
Mass Effect 3
Mechwarrior Online
Metro 2033 Redux
Metro Last Light Redux
Middle-earth: Shadow of Mordor
Mirror's Edge Catalyst
Need for Speed
Path Of Exile
Planet Coaster
Planetside 2
Plants vs. Zombies Garden Warfare: Deluxe Edition
Pro Evolution Soccer 2016
Project CARS
Roblox
Smite
Source Engine Titles/Half Life 2
Team Fortress 2
TERA
The Sims 3
The Witcher 2: Assassins of Kings
Titanfall 2
Total War: Attila
Watch_Dogs 2
World of Warplanes
XCOM 2
Jika Anda dalam modus Fast ring dan mengikuti program Windows Insiders, silahkan ke Settings -> Update & security -> Windows Update -> Check for updates.